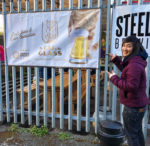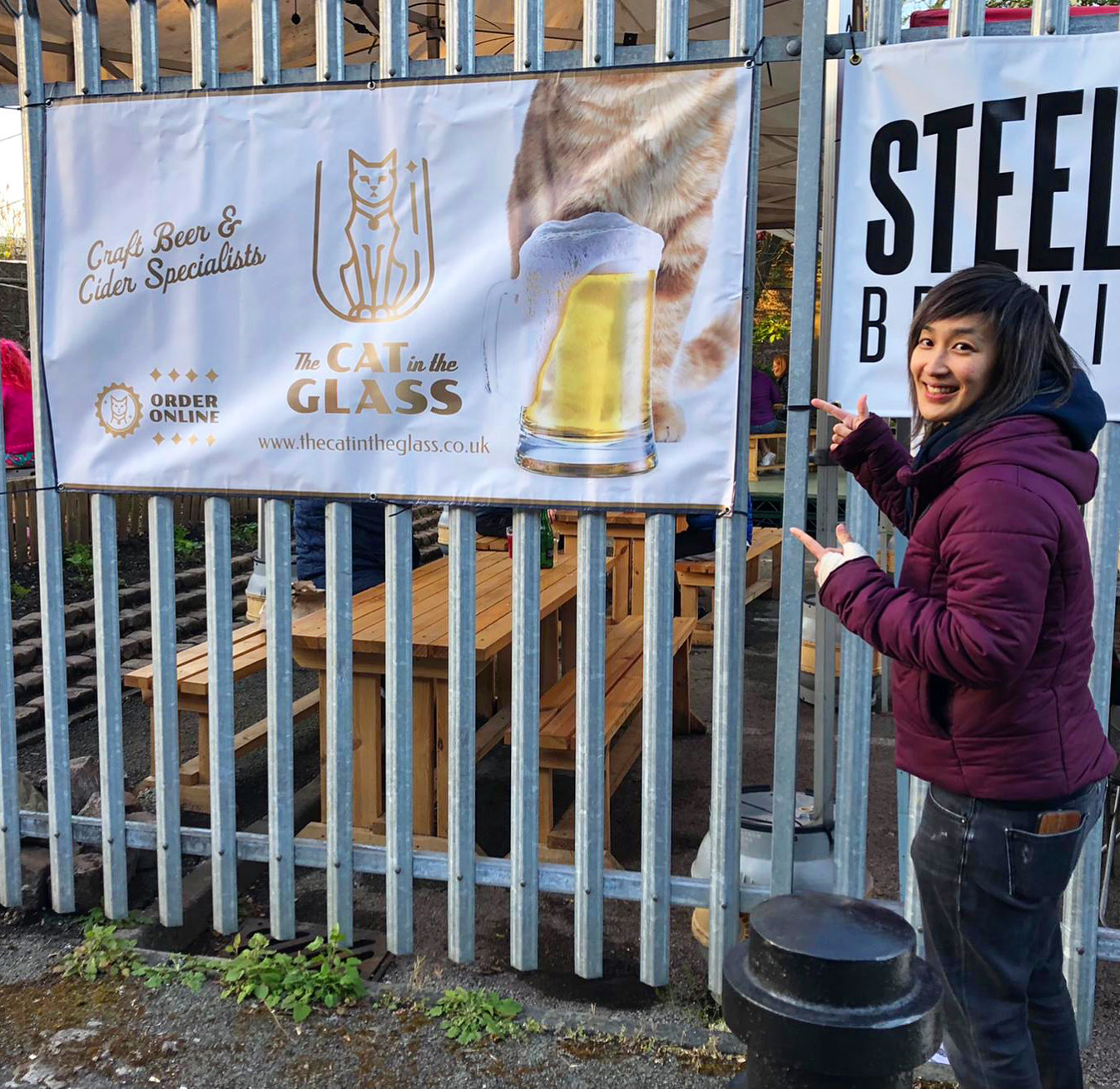 It's been all go at CITG Towers this month! I'm not entirely sure if I just remember sleep as a distant memory or something that will happen again one day if I eat my greens. I'd love to blame the joys of small business ownership in that tricky first year, combined with the stresses of the pandemic and the excitement of things starting to open up again, but I suspect a big dose of it is just our beloved brand icon cat Wotsit deciding that 5am is exactly the right time to wake mummy up every single day for no good reason. Can't even boot him out now since we've got such a fabulous range of new merchandise with the logo he inspired plastered all over it! Which brings me to the first of our exciting points this month – the MERCH!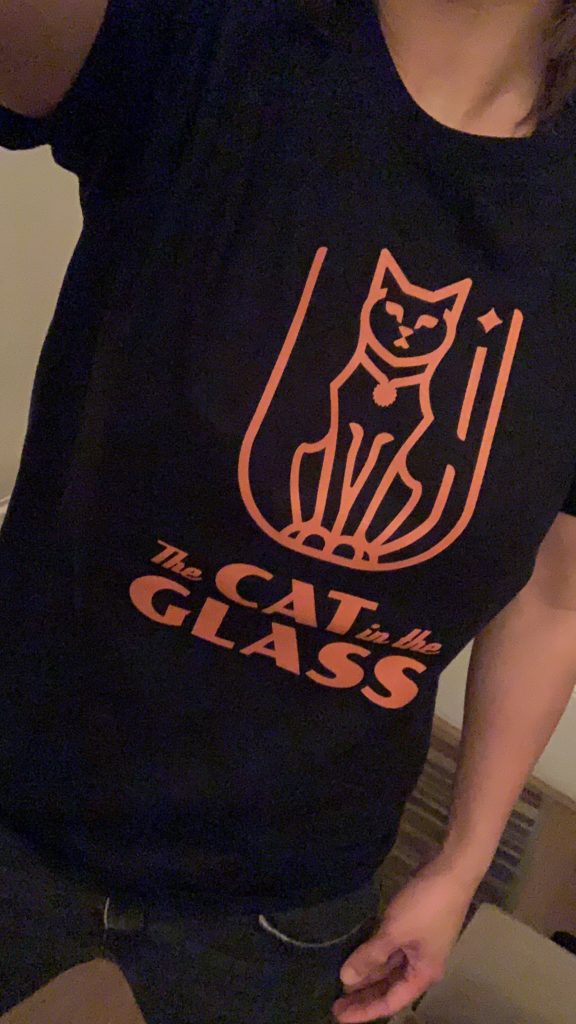 It started as with most things do these days, with the masks. Then we got the tote bags. Then we got the hoodies. And now we've got not one but TWO t-shirt designs and quite frankly I absolutely love it. I'd wear all of them at the same time if I was allowed but apparently "less is more" says the other half… "Pah" says I, so I've insisted on wearing as much of it as possible at all times. Gotta rep the brand 24/7 right? If you want to grab yourself some exclusive limited-run CITG merch, it's available on the website with all the other good things. Some sexy glassware will be hopefully the next bit of kit we go for, just trying to work out which design we like best. To stem or not to stem, that is the question…
Next up is PERCH – no not the fish, although I know of a certain ginger fluffball who would approve of that. Nope, I mean the sweet, sweet joy of being able to perch on a stool with a gang of your mates in your favourite beer garden and enjoy a pint or two in the sun, or let's face it, since this is Manchester, in the freezing rain 🙂 But who cares! WE'RE OUTSIDE, WITH DRINKS! AND OTHER HUMANS!! And speaking of beer gardens, have you visited us at Beer Nouveau's yet? Because by crikey it's fantastic. What a little gem! Tucked away down a quiet, unassuming old street amongst the railway arches and the industrial units is nestled a lovely urban sun trap of beery and cidery perfection. As well as our special curated list through available the main bar, we are still selling our full range of CITG products for collection from there. Steve and the team have done an amazing job converting the outside space into a genuinely lovely place to have a few pints and we couldn't be happier to be welcoming our brilliant customers back there, chatting all things beer and cider and bringing out some quality drinks for you all the enjoy.
So, if you want to come down to say hello and sample some of the quite frankly ridiculous range we have in right now, you know where to go – CITG @ Beer Nouveau, 75 N. Western Street, Manchester. Open Friday, Saturday and Sunday this and every weekend. Yes the weather looks biblically bad, but since when did that stop the good people of Manchester getting a drink or two in? There's plenty of free parking too there so you don't have even need to get wet on the way in. And anyway, if it gets too terrible, you can always buy some carry-out bottles and cans to drink at home whilst you dry off! 
Oh, and if you get peckish, we've teamed up with Wholesome Junkies, based just round the corner from the brewery, who will bring their awesome veggie and vegan street food right to you in the beer garden. How's that for something to munch on! But for the love of God guys, if you see another order from me for those Thai tater tots, someone stage an intervention, I need help…
And last but by no means least, it's Brunch, as in 'Sunday Brunch', the Channel 4 tv show watched by millions of people all over the country every week. A couple of weeks ago a certain cider legend Mr Gabe Cook presented three cracking ciders to the panel and little old Cat In The Glass was named as one of the suppliers! We actually stock products from all of the makers showcased but the one we were mentioned with was Group Hug from Brutes. When you've got someone with a palate like Gabe's saying it's good, you know you're in for a really interesting treat. We've still got a few bottles left so stick in your order if you want to see what all the fuss was about!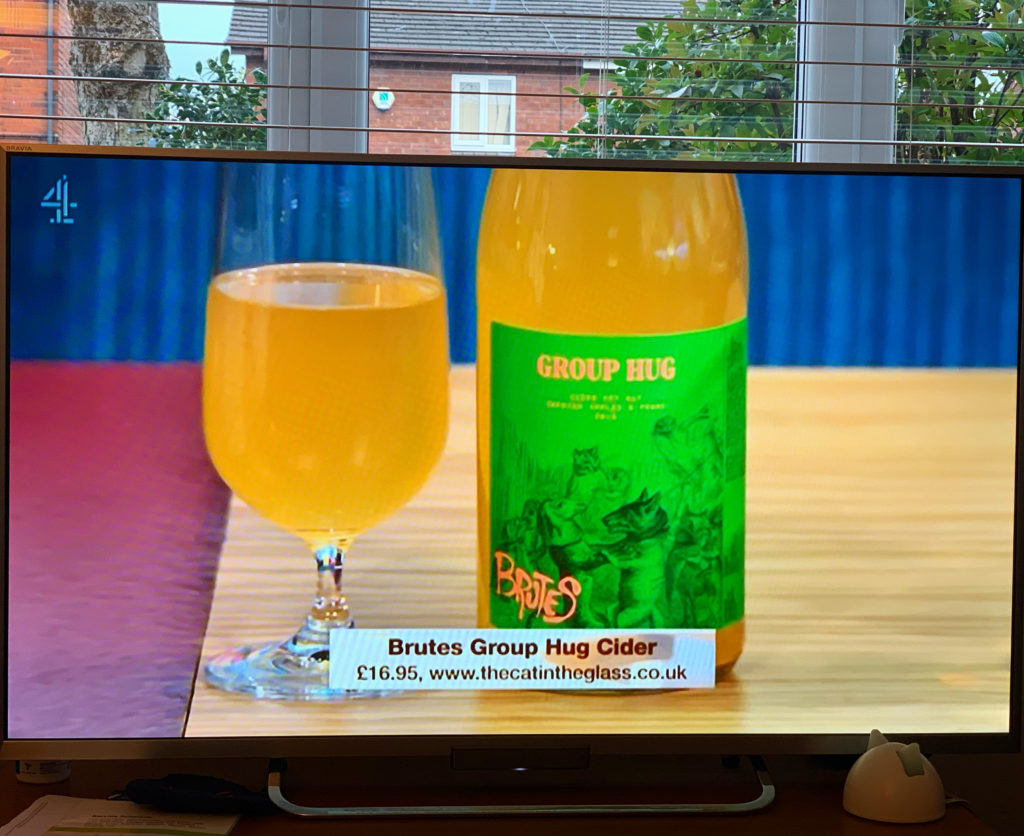 It's funny you know, our website link literally just flashed up on the TV screen for two seconds at most and then it was gone. But that moment made me smile from ear to ear because for CITG to have grown from a random idea into an proper little business, starting from scratch less than six months ago to actually being mentioned on the telly in front of millions of people as a place to go to buy brilliant drinks made me so proud I didn't know what to do with myself! It might seem a little thing in many ways, but it was enormous for Team Cat. Huge thanks to Gabe and also the lovely Grant at Re:stalk Cider for making it happen.
Every little bit of support we get as a small business is so very gratefully received and that chaps was a belter, so thank you!
Right that's it from us for now, those shelves won't stock themselves! As always, check out the website for the new lines we've got an offer (we have some VERY exciting stuff coming in the next week or so), come see us this weekend at the Brewery if you can or drop us a line and a cheeky follow on the socials. We love hearing your feedback on our products and seeing the cool posts we get tagged in of what you're enjoying drinking and where you are in the country!
Thanks again for all your support folks, it means the world.
Team Cat